The REGISTRATION WILL OPEN MARCH 1st, 2023!

Eddie was an amazing man who truly loved life and lived it to the fullest. Living in Ellicottville is what truly made him happy, which is why he and Becky planted roots and raised their family here. A true lover of all things sports, he spent a lot of time on the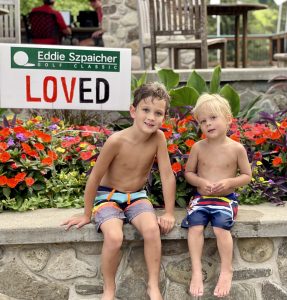 sidelines of fields and courts watching his girls play various sports over the years. When he wasn't watching his favorite sporting events, his friends could find him tending bar at various local establishments. His smile and larger than life personality made any patron (local or not) feel welcome and like they belonged there. His famous adage, "It's nice to be nice", rang true in his daily life through his interactions with family, friends, and strangers alike.
Of all the things Eddie loved, golf was certainly up there on his priority list. As soon as the snow melted, he would anxiously get out his clubs and head to the course. His sock tan was so prevalent; it didn't seem to fade during the winter! He took every opportunity he could to get out on the golf course (even taking his girls "golf ball hunting" for the chance to get in a few more swings).
When Eddie suddenly passed in 2012, his family and friends were devastated. As the months passed and a new golf season was once again upon us, it seemed fitting to honor Eddie by doing his favorite thing: playing golf. His good friend, Jay Stoddard, organized the first annual Eddie Szpaicher Golf Classic to remember and celebrate the life of his good buddy. Since then, the tournament has raised funds to award over $45,000 in scholarships at Ellicottville Central School and it is still going strong today!
We are looking forward to another tournament this year filled with good friends, great stories, and unpredictable weather!